There is a new and free introduction paragraph generator for WordPress that can help you get started on your blog posts. Stop spending your valuable time crafting the perfect introduction paragraph. This article will explain how you can easily create introduction paragraphs quickly and effortlessly.
The free introduction paragraph generator is available in the WritersBlok AI WordPress Plugin. It's a great tool that will help ensure your content is engaging and interesting while saving you time. With the help of WritersBlok's introduction paragraph generator, you can create personalized and attention-grabbing intros for your blog posts.
Table of Contents
What is WritersBlok AI Plugin for WordPress?

WritersBlok is an AI content generation plugin for WordPress that helps authors and copywriters when writing blog posts. The tool is designed to help eliminate writer's block and provide content recommendations. The goal is to assist, but not replace, copywriters.
This WordPress plugin is freely to download from the WordPress directory or install directly from the WordPress plugin page in your admin panel. The free introduction paragraph generator is just one of the many features of the plugin.
Some of the features included in the plugin for free are:
Generate ideas for blog post topics: Enter a topic or niche that you are interested in and generate a list of possible article titles and article topics to help get you started.
Outline blog post structure: Take your title or keywords and generate an outline of subheadings to structure your blog post. Choose which subheadings to include in your post.
Create intros and conclusions: Easily generate an introduction or conclusion to your blog post that can be reworded.
Transform your keywords into text: Enter some keywords or subheadings and generate paragraphs of text to help you get started.
Create bullet point ideas: Use keywords to generate a list of bullet points to expand on.
What is the Free Introduction Paragraph Generator?
If you're looking for a way to speed up the blog writing process, then you need to try the free introduction paragraph generator functionality of WritersBlok. With this functionality, you can generate one-click introductions based on the blog post title or any keywords you choose to make the introduction as relevant to your post as possible.
You can add the introduction paragraph to the WordPress block editor with a button. The editor is still 100% functional, so you can tweak the introduction paragraph copy as needed. This tool can help get the creative juices flowing by getting your blog post or article started correctly.
How Do You Use the Free Introduction Paragraph Generator for WordPress?
If you're familiar with WordPress, you won't have any issues using the introduction generator. It is built as a sidebar plugin for the block editor, the most recent version of WordPress editor.
Here is a quick video showing the free introduction paragraph generator in action:
You can also follow the screenshots below. When writing your blog post, simply click on the WritersBlok icon (a block style "WB") in the top right corner of the editor.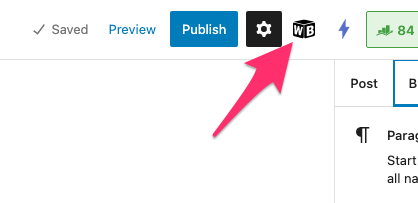 The WritersBlok plugin will open on the right side of your editor.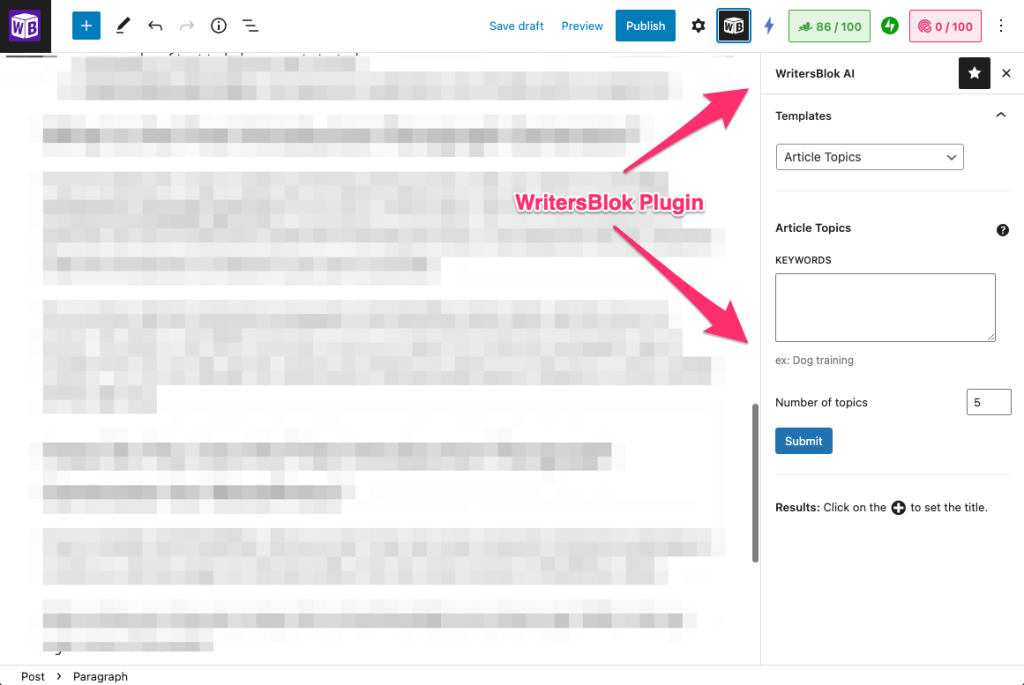 To use the free introduction paragraph generator, simply click the drop-down under the Templates section and select Article Intro.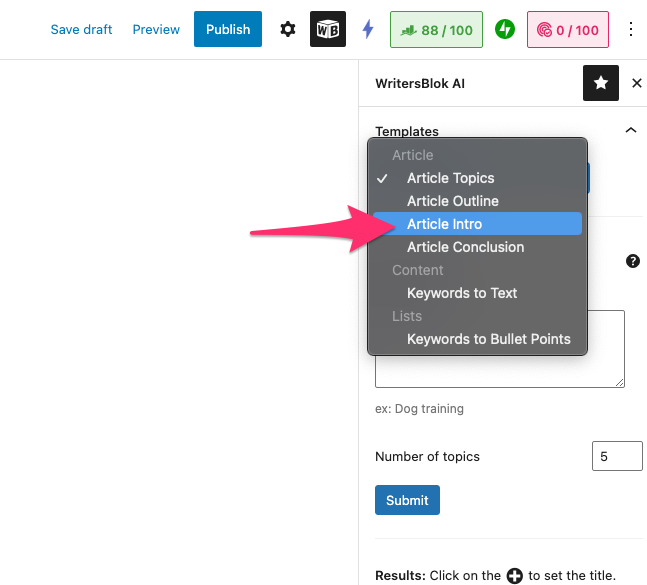 If you have a title set for your post, it will be automatically populated into the keywords box. You can always add keywords if you did not set the post title or want to craft a different introduction.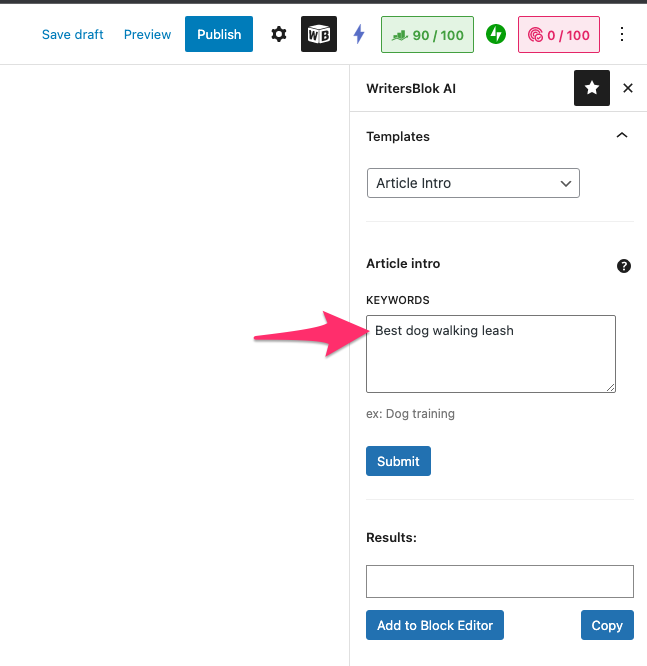 Then you simply hit submit and wait a few seconds for the introduction to be generated.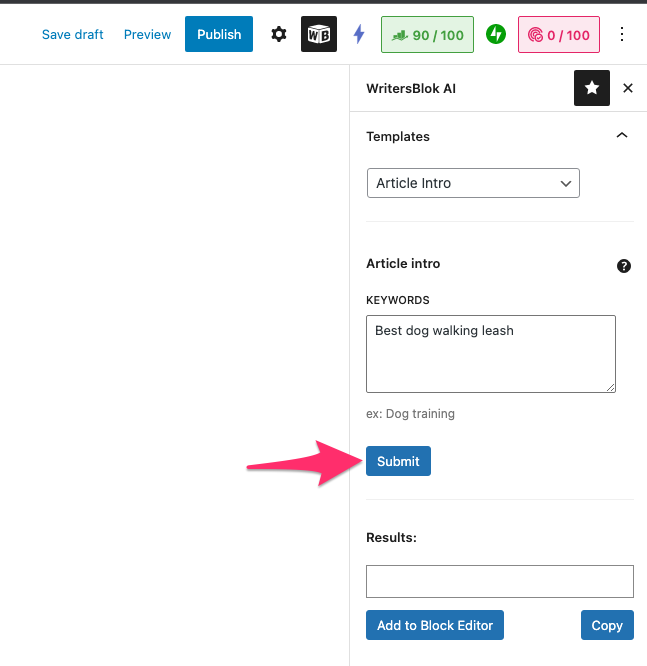 When the introduction is generated, it will appear in the Results section of the tool.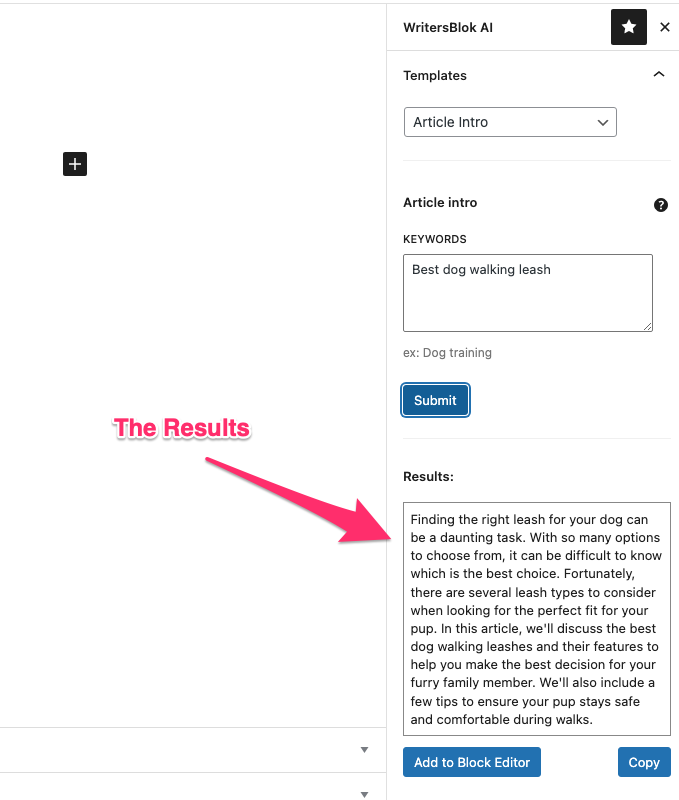 To add this to your post, click Add to Block Editor or Copy the text and paste it where you choose.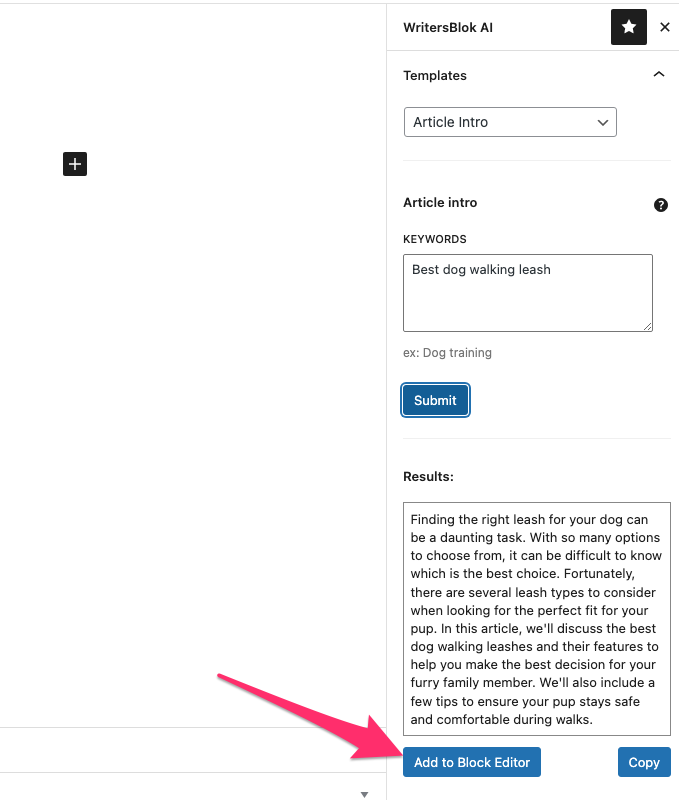 The final result will be an AI-generated introduction paragraph for your post.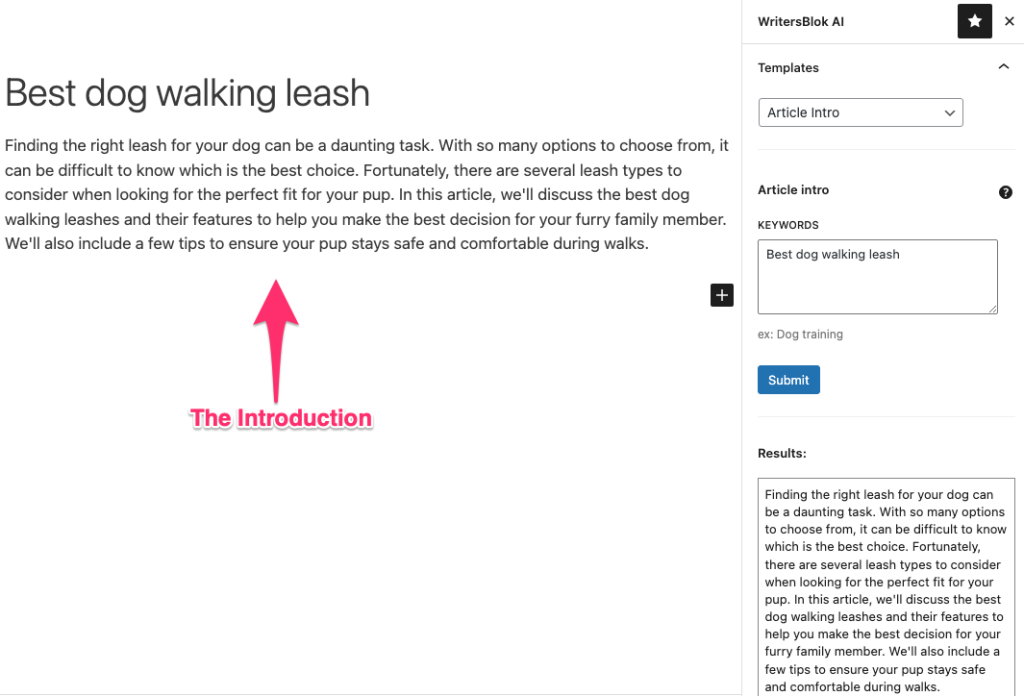 It's that simple. You can modify the paragraph as needed or move on with your writing tasks.
How To Install The WordPress Plugin
Installing the free introduction paragraph generator plugin could not be more simple. If you're familiar with WordPress, then I'm sure that you've installed plenty of plugins. We have simple instructions on how to install WritersBlok, but I'll also provide some screenshots.
First, log into your WordPress admin page and select plugins on the left menu: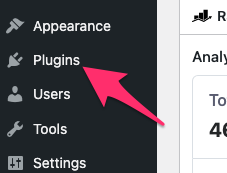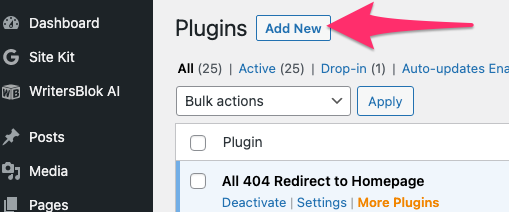 After a second, the search results will appear. Find WritersBlok and click Install.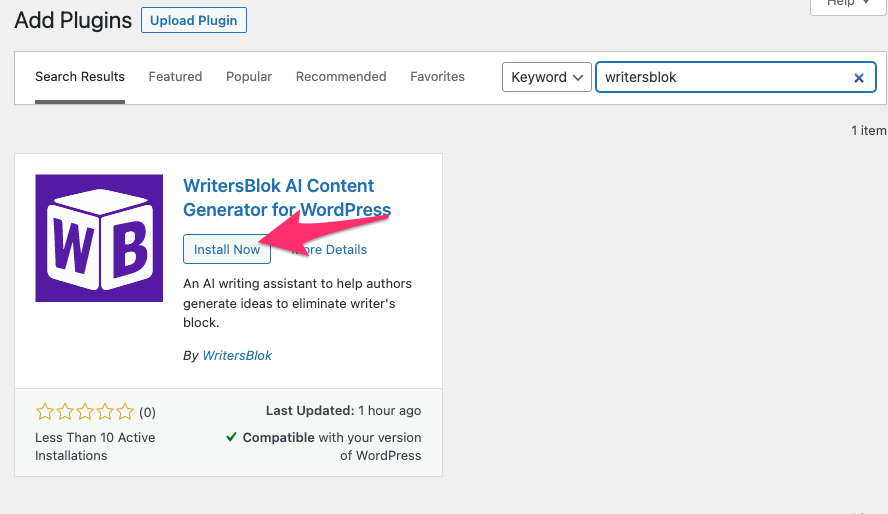 Now you need to activate the plugin.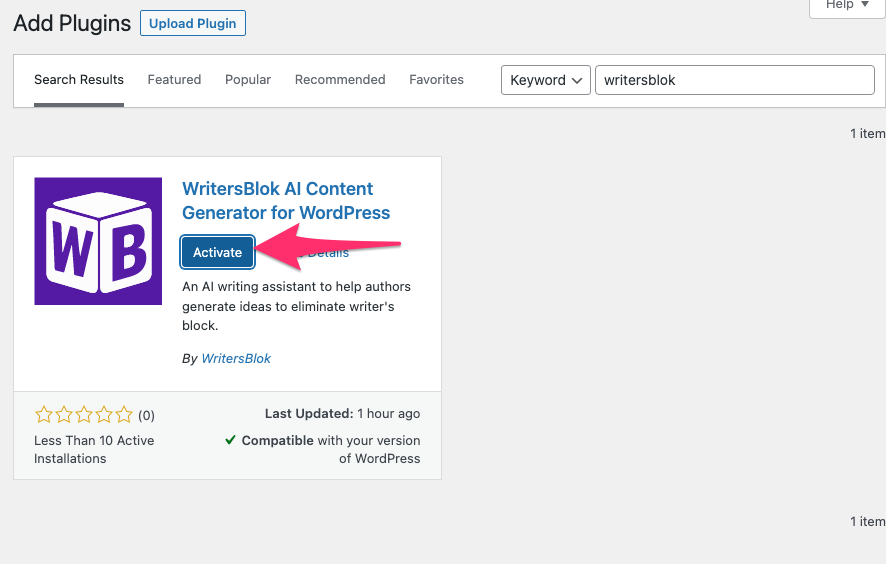 The final step is to select WritersBlok on the left menu and then enter your API key if you need an API key see: How to Get an OpenAI API Key.
How Does This Plugin Generate Introduction Paragraphs?
This will be a bit nerdy, so feel free to skip if you are not interested. The plugin leverages one of the most advanced artificial intelligence engines created to date, GPT-3. This deep learning model has been trained on 175 billion parameters to understand and produce natural language.
The machine learning AI model was trained on a massive corpus of text that includes books, articles, websites, and conversations. It can be used to generate questions and answers, natural language text, summarizations, translations, and more.
The free introduction paragraph generator included with WritersBlok makes it easy to leverage this world-class technology without a deep understanding of AI and machine learning. We're trying to make it as easy as possible to put artificial intelligence's power in regular people's hands.
Conclusion
In conclusion, the free Introduction Paragraph Generator for WordPress is a great way to quickly and easily create an effective and well-structured introduction to any article or post. It is easy to use, and intuitive and provides the tools needed to generate an attractive and captivating introduction.
Try the WritersBlok AI plugin for WordPress today for free. There is no risk, and you'll have a chance to experience the future of AI-powered content writing.